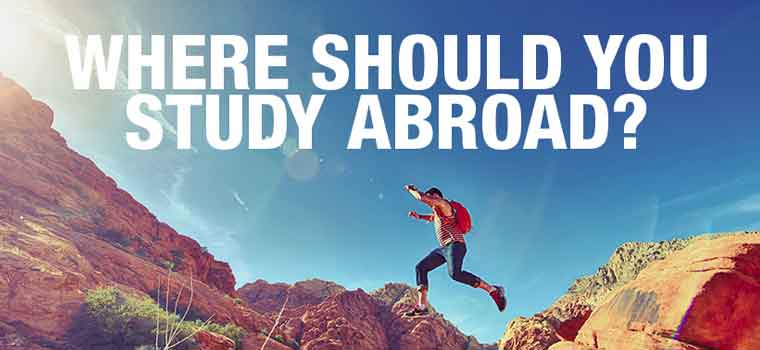 Overseas Education - Country Highlights
CANADA
Canada is one of the top Organisation for Economic Co-operation and Development (OECD) countries in spending per student on public postsecondary education
Canada's universities are among the world's best. In 2016, 4 Canadian universities ranked in the top 100 of the ARWU (Shanghai Ranking) and 15 others in the top 500; 3 ranked in the top 50 of the QS World University Rankings and 10 others in the top 300; and 3 ranked in the top 100 of the Times Higher Education World University Rankings, while 5 others ranked in the top 200.
The sector supports close to 680,000 direct and indirect jobs across Canada
Living and working in Canada may be a unique opportunity for an internship in Canada for international students. It might also be an ideal method to jumpstart your career by interning in the fields of marketing, business, travel and tourism, environmental causes, engineering, and many more.
The QS World University Rankings® 2018 is here, and 26 universities in Canada are featured among the world's best. Of these, four are in the global top 100, while a further nine Canadian universities are ranked in the top 300.
AUSTRALIA
Australia is a destination of choice for international students because of the quality of the world-class education on offer here, the outstanding student experience and our rich cultural diversity.  From great brains to great beaches, Australia has it all.
Australia is a member of major international and regional organizations, including the United Nations, the Group of 20, the World Trade Organization, the Organization for Economic Cooperation and Development, the Commonwealth of Nations and Asia-Pacific Economic Cooperation.
There are 35 top universities in Australia, according to Times Higher Education's World University Rankings 2018, and six of them feature in the prestigious top 100, meaning there is no shortage of choice.
Five Australian universities rank in the top 50 of the QS World University Rankings, including the Australian National University (19th)
Australia has the world's 13th-largest economy and tenth-highest per capita income (IMF). With the second-highest human development index globally, the country ranks highly in quality of life, health, education, economic freedom, and civil liberties and political rights..
UK
Education in the United Kingdom is a devolved matter with each of the countries of the United Kingdom having separate systems under separate governments: the UK Government is responsible for England; whilst the Scottish Government, the Welsh Government and the Northern Ireland Executiveare responsible for Scotland,[1] Wales[2] and Northern Ireland, respectively.
UK qualifications are of the highest quality and reflect the need of the industry.
International students are entitled to work up to 20 hours a week during term-time and full-time during vacation periods, enabling you to gain vocational skills and to earn while you learn. No separate permission is required from the Home office for doing part-time works.
Universities have 3 in the top 10(with university of Oxford and University of Cambridge being top 2 universities in the world)and 7 in the top 50.
No matter what you're passionate about, the UK is a fantastic place to pursue your interest, both on and off-campus. Whether you're a huge sports fan, a computer games addict, a budding scientist or have a passion for politics - studying in the UK will help launch your career while offering amazing experiences.
NEW ZEALAND
New Zealand's universities offer numerous opportunities for research and internships, where students can build practical skills needed in their future career and academic life. Discover more about our high ranking education system and incredible lifestyle.
There are 8 universities in New Zealand, which all offer high quality education. It's also important to note that all universities have their own international students sections dedicated to foreigners who wish to study in New Zealand.
To help your financial situation while studying in New Zealand you may apply to various scholarships. There are a wide variety of scholarships available to international students in New Zealand. These scholarships are provided by New Zealand government, educational institutions, private sources and foreign governments.
The economy of New Zealand is the 53rd-largest national economy in the world measured by nominal gross domestic product (GDP) and 68th-largest in the world measured by purchasing power parity (PPP).
The most important factors in selecting New Zealand were: the English-speaking environment, safety, the international recognition of New Zealand qualifications, the quality of education and cost. Moderately important were factors relating to the "Kiwi experience," i.e., natural beauty and scenery, New Zealand lifestyle and culture, travel and adventure.
IRELAND
The friendliness and hospitality for which the Irish people are renowned contributes to the ease with which overseas students adapt to the way of life and in particular, student life in Ireland.
There are hundreds of scholarships available for international students from a wide variety of sources such as the Government of Ireland, the Irish higher education institutions and other organisations.
34 higher education institutions in Ireland offer an extensive range of over 5000 programmes leading to internationally recognised, quality assured qualifications. 
All universities in Ireland rank in the top 5% of universities globally, and achieve higher rankings than most UK universities.
Many universities in Ireland consider student placements to be an essential part of education and provides an opportunity to put theory into practice. Therefore, there are various services that help  students to find internships or placements in Ireland